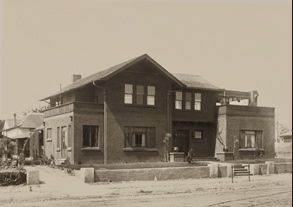 Amy Strong House
Designed in the classic Craftsman style, the house serves as an excellent example of early 20th-Century architecture. Commissioned in 1906, the Amy Strong residence garnered the attention of local press (see article, "Will Put Up $6,000 Residence," July 26, 1906 - The San Diego Union), with the noteworthy expectation of 'being one of the handsomest in that section of the city.'
The two-story building marries an emphasis of the natural world in its recurring organic designs in both wood and glass motifs with California redwood and shingle style. Emmor Brooke Weaver's characteristic detailing and attention to harmony with the natural world is evident in the materials and design refinements throughout the residence. The upper floor, which originally contained the bedrooms and living quarters, is dominated by an open, lattice-covered porch overlooking Fourth Avenue. The bottom floor, which survived a number of indiscriminate design choices throughout the decades since it was built, was significantly restored to period intent in 1986.
In 1977, however, the bottom floor interior was described by San Diego historian John Henderson as;
Combing the residence and working space for dressmaker and seamstress, the shingle style building is a delight in its interior spaces. The central entrance hall leads to a lattice-covered garden beyond with Japanesque pool and fountain. To the right, the main salon with great fireplace and stained glass window in floral fruit and geo-metric design. To the left, service and work areas. The geometric design motif in the crystal leaded glass is repeated in the balcony railings. (AIA Guide to San Diego, 1977, p. 45)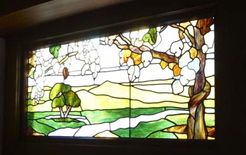 The 1986 restoration of the Strong residence by Norm Hasenfang and Brian Klink was inspired by the impressive redwood detailing found underneath the cosmetic fixtures and plastic laminate of late-70s infamy which hid much of Weaver's original design. The restoration took over two years, but Hasenfang and Klink succeeded in recreating much of the residence's intended Craftsman style, aided by period photographs of the house, by a Weaver-designed staircase found elsewhere, and, perhaps most ephemerally, by 80-year-old carpenter's marks in pencil, discovered on an internal wall by their crew of shipwrights and carpenters. When the restoration was complete, the owners of the Strong residence applied for Historical designation from the San Diego Historical Site Board. (Kaiser, Kay. 'One old house is memory, another will be shipshape,' The San Diego Union, 24 August 1986.)
A further remodeling in 1993 added a library and kitchen area to the Strong house, preparing the residence for use as law offices. The 1993 work replaced the non-secure Japanesque courtyard, added a walkway to the upper floor balcony patio, and repaired fire damage to the rear of the building. Further period stained-glass paneling was also commissioned, bringing the house to the Craftsman restoration and redesign seen currently.