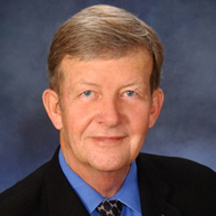 Neil K. Nydegger Esq.
Education:
United States Military Academy, West Point, B.S. Engineering (1962)
Princeton University, M.S.E. Aeronautical Engineering (1968)
University of San Diego, J.D. (1976)
George Washington University, L.L.M. Patents and Trade Regulations (1980)
Admissions/Registrations/Ratings:
Member of the California State Bar (1976)
Registered to practice before the United States Patent and Trademark Office (1981)
AV rated by Martindale Hubbell
Professional Background:
1965-70 United States Army Aviator (Vietnam)
1970-73 Assistant Professor of Engineering, Department of Mechanical Engineering, United States Military Academy, West Point
1977-78 Chief of Military Justice, U.S. VII Corps (Stuttgart, Germany)
1980-82 Armed Services Patent Judge Advocate (Washington, D.C.)
1983-86 Warner-Lambert Company, Assistant Patent Counsel (San Diego, CA)
1986-88 Workman, Nydegger & Jensen, Partner (San Diego, CA)
1988-present Nydegger & Associates, Owner (San Diego, CA)
Abstract of Background
Mr. Nydegger has been actively practicing intellectual property law for almost twenty (20) years. During that period, he has personally drafted and prosecuted hundreds of United States and foreign patent applications and has supervised the drafting and prosecution of hundreds of additional such applications. Mr. Nydegger has obtained patent protection for inventions in the mechanical and electrical arts, including inter alia, inventions for medical devices, laser optic systems, superconductors, neutron radiography, communication systems, computer architecture, computer programs, nuclear waste systems, oceanographic systems, and various electronic devices. In addition, Mr. Nydegger regularly counsels clients as to patent infringement and validity issues and has rendered many written and oral opinions as to patent infringement and validity issues. Mr. Nydegger assists his clients in the licensing of intellectual property rights and in assessing and valuing intellectual property portfolios. Mr. Nydegger has also been designated as an expert witness in patent infringement actions.
In addition to his patent expertise, Mr. Nydegger also practices in other areas of intellectual property law. He has obtained countless trademarks and copyrights on behalf of a diverse client base. Mr. Nydegger has performed numerous availability assessments and regularly analyzes trademark infringement questions for his clients.
Mr. Nydegger is a West Point graduate and served two tours of duty in Vietnam. While serving in Vietnam, Mr. Nydegger was a company commander and flew both helicopters and fixed wing aircraft. He remains an instrument-licensed pilot today.
During his tenure in the United States Army, Mr. Nydegger served as the Chief of Military Justice Justice for the U.S. VII Corps in Stuttgart, Germany and as Patent Judge Advocate at the Pentagon in Washington, D.C. He is the recipient of the Legion of Merit, the Bronze Star, the Meritorious Service Medal, the Air Medal, the Army Commendation Medal and various Campaign Medals.
Mr. Nydegger earned a Master of Science degree in Aeronautical Engineering from Princeton University and served as an Assistant Professor in the Department of Mechanical Engineering at West Point, teaching in the fields of mechanical engineering and helicopter aerodynamics.
Mr. Nydegger received his law degree from the University of San Diego in 1976 and obtained a Master of Law degree in the field of patents and trade regulation from George Washington University in 1980. He is a member of the California bar and is admitted to practice before the United States Patent and Trademark Office.
Mr. Nydegger is a former Chairman of the Board of Trustees of the Army and Navy Academy, Carlsbad, California, and is a former President of the West Point Society of San Diego. He was formerly a member of the Board of Directors of the International Visitors Council of San Diego, and is a member of the San Diego County Bar Association and the American Intellectual Property Law Association.